Note: To be able to participate in this event you need to be part of a guild!
The event is open from 11:00 to 21:00 , server time , every day!
Help Button:
Reading through the help buttons before participating in any event, is always recommended. This is what the help button for Guild Mysterious Realm says: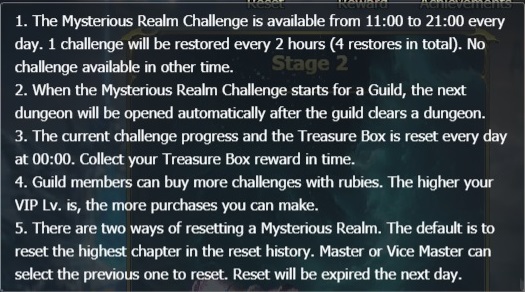 You can enter the event from your guild's interface :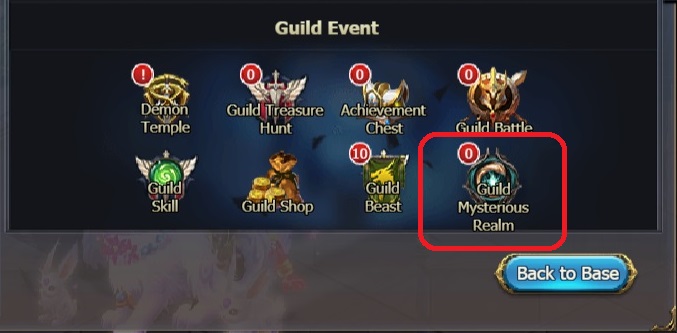 Guild Mysterious Realm Event :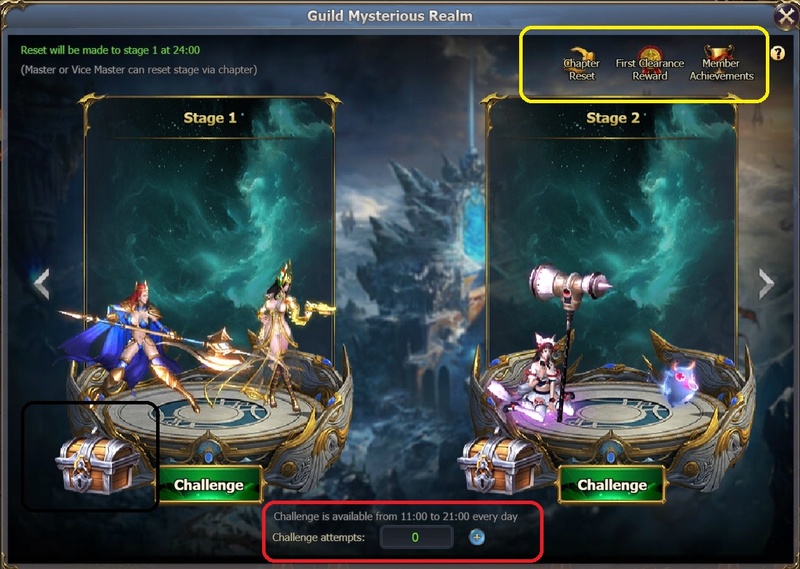 This is the main window of the event.
Yellow Marked :
Chapter Reset - Here , the Guild Master and the Vice Master (only) will be able to set how the challenges are reset every day. (From the last boss defeated or from the one before the last)
First Clearance Reward - When the guild defeats the boss successfully, all guild members will be able to collect a reward. (Each reward can be collected only once)
Member Achievements - Here's a tracker of how much damage each member of guild has done in the course of the day.
Dark Marked :
After the guild has defeated one boss each member of the guild can open a chests with even more rewards.
Each stage contains two bosses so make sure you open both chests.
Red Marked :
You will gain an attempt every two hours during the event.
You can also use rubies to buy challenge attempts
Tips :
-The event is more focused on attack.
-It's about how much damage you can deal to the boss in four rounds.After 4 rounds the boss will auto-kill you with the power of gods.
-Using extra attempts to deal a large amount of damage is also a nice trick.