Here are some things you should know about Noble Rank :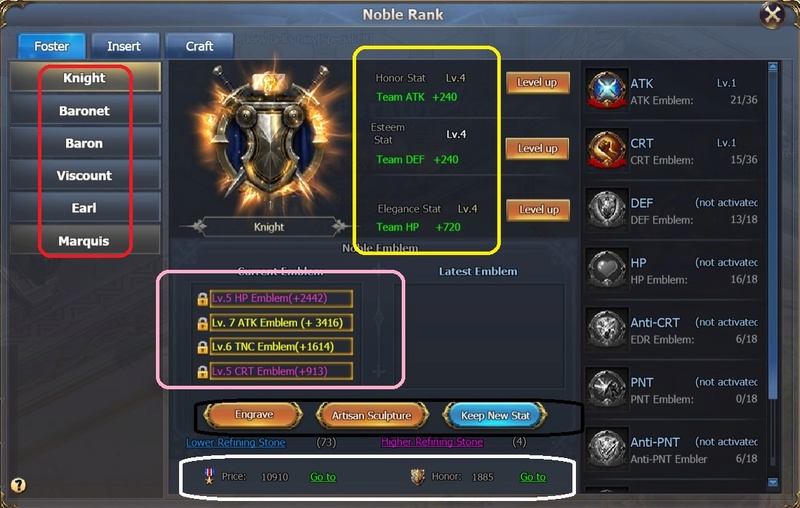 Red Marked :
These are the Noble Titles. To unlock these titles you need Renown and Honor.
Each title will require more and more renown and honor.
Yellow Marked :
Here you have your basic stats ( All member stats ) Honor Stat / Esteem Stat / Elegance Stat .
To upgrade these you need Honor
Pink Marked :
Here are your Current Emblems : First emblem is unlocked when you unlock the title. The next three unlocks when you have your basic stats at level 4 (at least ) [The yellow marked ones]
There is a little locket in front of every emblem so you can lock that and when you roll the emblems that will remain the same. (Each time will cost you rubies)
Dark Marked :
Engrave will reroll the emblems[Pink marked] using a Lower Refining Stone
Artisan Sculpture will reroll the emblems[Pink marked] using a Higher Refining Stone
Keep New stat will replace the old stats with the new ones.
White Marked :
Your current Renown(That little badge) and Honor.
You can obtain Renown and Honor in Killing Field event and only honor in Total War event.
In the right of the window you can see more Emblems (These are Permanent Emblems)
You will unlock them once you hit the required level of current emblems[pink marked].
Once activated they will remain as that for the entire game.
Here's the list :
ATK -- All members Attack
CRT -- All members Critical Dmg
DEF -- All members Defence
HP - -All members Health Points
[EDR] Anti-CRT -- All members Protection to Critical Dmg
PNT -- All members Penetration Dmg
[TNC] Anti-PNT -- All members Protection to Penetration Dmg
BLK -- All members Chance to Black an attack
[SMA] Break-BLK -- All members Chance to break the enemy block